# Description
Cruise
PHUKET - PHANG NGA BAY - KOH LANTA - KO MUK - LANGKAWI - PENANG - PORT KLANG - KUALA LUMPUR - MALACCA - SINGAPORE
Discover one of the most sublime destinations in the world. Fine white sandy beaches along gorgeous blue-green waters, breathtaking scenery, and fascinating traditions await you. The Republic of Singapore, Malaysia, and Thailand are our destinations on this exciting cruise. In the distinctive Phang Nga Bay, sheer limestone rocks seem to jet into the sky from the emerald waters. Thailand is known for its gorgeous beaches, hospitality, and amazing food. Malaysia's capital, Kuala Lumpur, is a bustling city with an atmosphere like no other. Your vacation will finish up in Singapore—a constantly evolving, dynamic country with a diverse population that makes it a fantastic place to explore and experience. Our cruise on the Andaman Sea is, very simply, the adventure of a lifetime.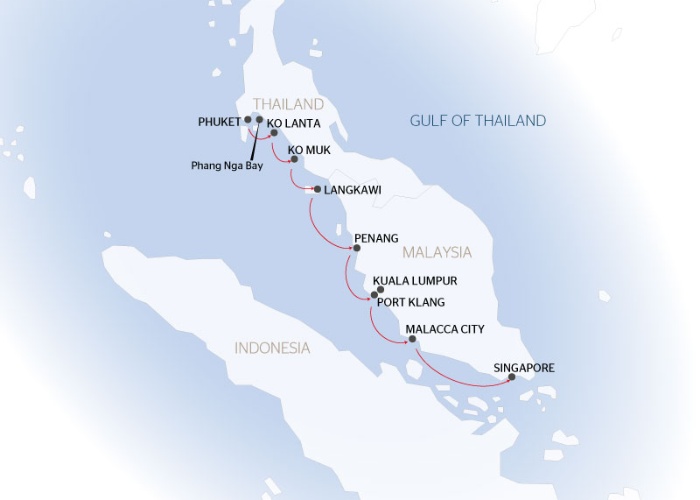 THE CROISIEUROPE DIFFERENCE
All meals included - DRINKS INCLUDED with meals and at the bar
Refined cuisine - Gala dinner and evening
Headsets are included for excursions
Onboard activities
Travel assistance and repatriation insurance
All port fees included
CRUISE HIGHLIGHTS
Two destinations listed as UNESCO World Heritage sites: The historic cities of Malacca and George Town
Go to the top of the Petronas Twin Towers in Kuala Lumpur
Discover Singapore, a lively, colorful city-state and its futuristic nature park, Gardens by the Bay
Cruise through one of the most beautiful bays in the world: Phang Nga Bay
Learn about the culture and traditions of the Mah Meri in Port Klang
START IN
2019
* Price based on double occupancy
Sales
Child discount (2-9 years) : - 30%
Formalities
For French nationals, your passport must be valid for six months beyond the last day of your trip. You do not need a visa.
For other nationalities, please consult the competent authorities (consulate/embassy) before your trip.
Ships
Several ships available for this cruise
EXCURSIONS
Excursions are only available for purchase up to 15 days before your trip begins. Certain excursions happen at the same time and cannot be combined.
The Petronas Twin Towers are closed on Mondays. If they are closed, we will offer another option.
Frequent traffic jams can disturb the sequence of certain excursions.
Tours will be carried out in air-conditioned coaches, mini-buses, or small local boats.
Visits will be narrated by a local, English-speaking tour guide, and you will have earphones for easier listening.
PRECAUTIONS
Vaccines are not mandatory for this trip. It is nevertheless advisable to be up to date with the following vaccinations: tetanus, polio, hepatitis A and B, diphtheria, and typhoid fever. The use of mosquito repellent is highly recommended.
CURRENCY EXCHANGE
The currency in Singapore is the Singapore dollar. For the current exchange rates, please consult websites such as www.xe.com or www.onada.com/currency/converter.
The currency in Malaysia is the Malaysian ringgit. For the current exchange rates, please consult websites such as www.xe.com or www.onada.com/currency/converter.
The currency in Thailand is the Thai baht. For the current exchange rates, please consult websites such as www.xe.com or www.onada.com/currency/converter.
WEATHER
During this cruise, we will visit three countries: the Republic of Singapore, Malaysia, and Thailand. They all have a similar hot and humid climate throughout the year. The rainy season ends at the beginning of October.
Temperatures range between 77°F and 95°F (25°C and 35°C) and the water is between 77°F and 86°F (25°C and 30°C) all year round.
TIME DIFFERENCE
You can consult www.worldtimezone.com to see the time difference between your home and your destination.
This cruise is not recommended for PERSONS WITH REDUCED MOBILITY. You must be in good physical condition to participate. Certain visits are done on foot.
ADDITIONAL INFORMATION:
The captain of the ship is the sole authority who can modify the ship itinerary for safety or navigational reasons.
The excursions can be modified and the order of the visits can be reversed in the event of technical difficulties or local, cultural or sporting events.
The local authorities can decide to close certain sites or museums at any time and for any reason. If this happens, we will propose an alternative.
At certain ports-of-call, we will use our launches to bring you directly to the beaches. These disembarkations will only happen if the weather conditions allow us to do so.