# Description
Cruise
Montreal - SAINT PIERRE - CAP-AUX-MEULES - GASPÉ - BAIE-COMEAU - TADOUSSAC - QUEBEC CITY - MONTREAL
Cruise the Saint Lawrence River and visit the vibrant cities, vast expanses of nature, and quaint islands found in and around its waters.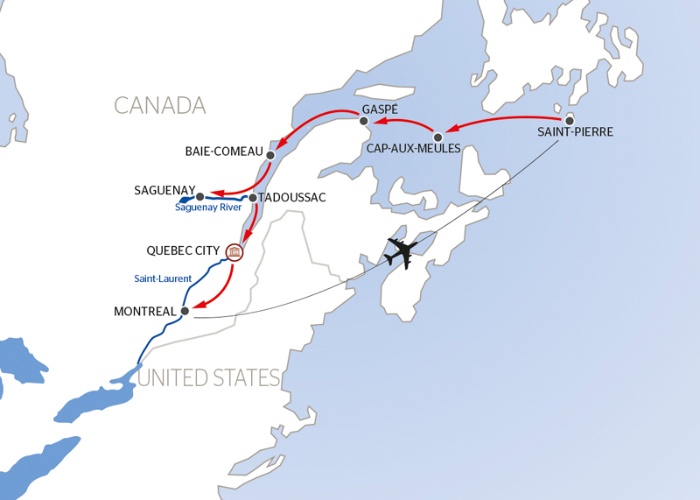 THE CROISIEUROPE DIFFERENCE
All meals included - DRINKS INCLUDED with meals
Refined local cuisine
Headsets are included for excursions
Official welcome from the captain and crew
Tour leader or cruise director on board
Onboard activities and/or lectures
Travel assistance and repatriation insurance
All port fees included
CRUISE HIGHLIGHTS
Exclusive itinerary
New cruise on the Saint Lawrence River to Montreal and the rustic Saguenay Fjord
Luxurious, reasonably scaled vessel with dedicated crew
3 excursions included: Saint Pierre and the Arche Museum and Archives, Old Quebec City, and the historical center of Montreal
Discover:(3)

Tours of Quebec City and Montreal
The brightly colored architecture in Saint Pierre and Miquelon
Learn about Canada from its founding to modern times
Tastings of local products
Discover the northern gannet bird colony on Bonaventure Island
Whale watch in Tadoussac
Beautiful landscapes on the Magdalen Islands
All departure dates are currently sold-out.
Sales
20% reduction for 1 child from the age of 2 up to the age of 10 sharing a cabin with 1 adult (on the price of the cruise only - excluding flights, taxes, supplements and service fees)
30% reduction for 1 child from the age of 2 up to the age of 10 sharing a cabin with 2 adults (on the price of the cruise only - excluding flights, taxes, supplements and service fees)
Ships
Several ships available for this cruise
Valid passport and eTA are mandatory. Non-EU nationals are advised to consult their embassy or consulate.
---
Requirements
For French citizens: valid passport and eTA are mandatory. Passengers must apply for eTA directly via the Government of Canada website https://www.canada.ca/en/immigration-refugees-citizenship/services/visit-canada/eta.html. The 2019 rate for an eTA is $7 CAD.
For other nationalities: please consult the competent authorities (consulate/embassy) before the trip.
Children traveling with one parent or a guardian. The parent or guardian must have the child's birth certificate and a consent letter, written in English or French, that is signed by the absent parent. The consent letter must provide the contact information for the absent parent. The letter does not need to be certified. Attach a copy of the family record book (if it exists) and a copy of the absent parent's ID card or passport showing their signature. If the parents are separated or divorced and if the traveling parent has sole custody, the traveling parent must have a copy of the custody order with them. If one of the parents is deceased, the traveling parent must have a copy of the death certificate with them. If the child has been adopted or is under guardianship, the parent(s) or guardian(s) must have a copy of the adoption papers or guardianship appointment with them.
Precautions
No mandatory vaccines.
Currency exchange
For the current exchange rates for the Canadian dollar, please consult websites such as www.xe.com or https://www1.oanda.com/currency/converter/.
Credit/debit cards: Visa and MasterCard are widely accepted.
There is no currency exchange service on board.
Weather
Canada has a humid continental climate with temperatures differentiating greatly between seasons. Harsh, snowy winters with temperatures falling into negative numbers contrast greatly with hot, humid summers that can reach temperatures over 86° F (30° C) in the summer.
The weather tends to be warm to hot from June to October. Evenings can be cool.
The autumn colors are renowned worldwide.
Time difference
You can consult www.worldtimezone.com to see the time difference between your home and your destination.
Additional information:
2020 pre-cruise program subject to change
• The excursions can be modified and the order of the visits can be reversed if necessary.
• The captain of the ship is the sole authority who can modify the ship itinerary for safety or navigational reasons.
• Tips have not been included for any of our excursions, so please be prepared to tip.
• Keep in mind that all prices displayed during our excursions in Canada (in stores, at museums, etc.) do not include sales tax. Canada adds at least one sales tax to purchases, and these taxes can add as much as 15% to your total bill.
• Tipping waiters and waitresses in restaurants and bars is absolutely expected. Add an additional 15% minimum to your final bill.
• Smoking is strictly prohibited in public spaces in Canada.
---
Additional information
Useful info
INTERNET
SATELLITE CONNECTIONS
Our ship provides Internet connection via satellite while we cruise, which is different and slower than what we are used to through our regular home or office services. We cannot guarantee connection at all times. Please keep this in mind while you are enjoying your vacation with us.
TELEPHONE SERVICE
DURING CRUISE
When we are at sea, you can connect your device(s) to the onboard GSM/3G network. Your service provider will automatically send you the terms and conditions of use for this service. You will be able to make calls, send messages, or use the Internet through this network's roaming services. The GSM network will be turned off once the ship enters a port.
WHILE IN PORT
When the ship is in a port, you will be able to receive and make calls via your international calling/service plan according to the country you are visiting.
WATCH OUT FOR SERVICE FEES
We strongly recommend that you contact your service provider before your departure; international calls and data usage can be very costly and are almost never included in basic operator packages.
PLEASE CHECK THE SETTINGS FOR YOUR DEVICE
Once you are on board, but before you connect to the Internet, please check the settings for your device(s). We request that you limit the downloading of videos and large-volume files. Automatic updates to your PC, tablet, and smartphones will affect the speed and cost of your connection. You probably have automatic updates for apps on your devices that you are not aware of. We recommend that you deactivate these updates while you are staying with us.
---
Warning: Navigational obligations and weather conditions can disrupt the itinerary, and in certain cases, intermediate stops may be canceled. If this happens, CroisiEurope will do our best to find the best solution according to passenger expectations. For safety reasons, the company and/or the captain of the ship are the only authorities who can modify the cruise itinerary.
2019 PRE-CRUISE PROGRAM (subject to changes).
(1) Subject to favorable weather conditions; limited availability
(2) Flight between Montreal and Saint Pierre. Flight schedules are not currently available. These flights may give rise to stop on the outbound and/or inbound journeys. Airport taxes (2019 rate: €20). We will inform you of the airline you will fly on at least three months before your departure.
(3) Optional excursions.
Alcohol can be dangerous to your health. Please drink in moderation.