# Description
Cruise
BARCELONA - IBIZA - PALMA - PORT MAHON - NICE
The sun reigns on these charming and authentic Mediterranean islands. Our cruise includes glimpses of traditional living and a plunge into the exuberant Spanish scenery. Barcelona is one of the trendiest places to visit nowadays, in part due to Gaudi's cathedral masterpiece La Sagrada Familia. The city bustles from avenue to avenue, but a moment of calm and solitude in a small square right around the corner is never far away.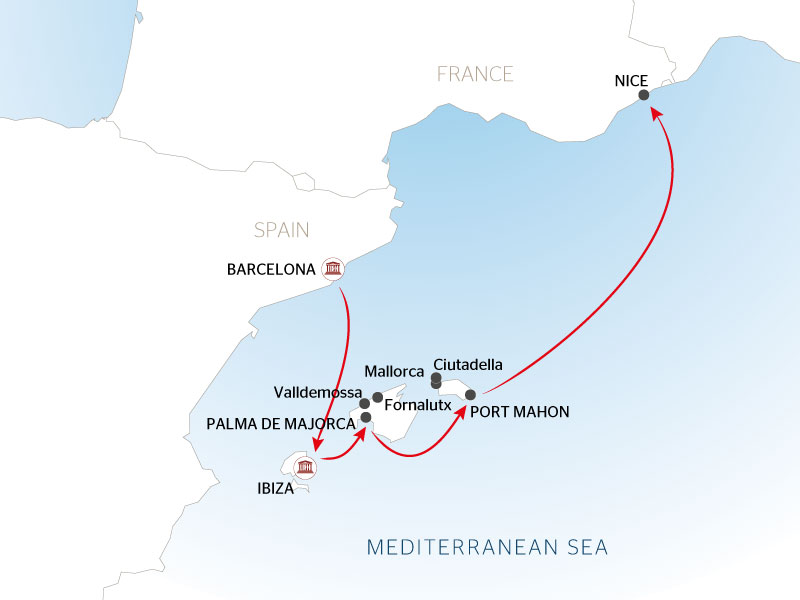 THE CROISIEUROPE DIFFERENCE
All meals included - DRINKS INCLUDED with meals and at the bar
Refined French cuisine - Gala dinner and evening - Welcome cocktail
Free Wi-Fi onboard
Headsets are included for excursions
Official welcome from the captain and crew
Onboard activities
Travel assistance and repatriation insurance
All port fees included
CRUISE HIGHLIGHTS
UNIQUE ITINERARY : Cruise through the Balearic Islands
Explore(1)

Classic spots in Barcelona, including La Sagrada Familia
Ibiza and its UNESCO World Heritage sites
The picturesque villages of Valldemossa and Fornalutx in Mallorca
Gorgeous Menorca and lively Port Mahon
Charming Ciutadella

DELICIOUS SPANISH CUISINE

Tasting of Spanish cold cuts at La Boqueria Market
Tasting of Spanish pastries on board
Onboard Spanish cocktail party with sangria and tapas
Enjoy a traditional meal on Mallorca at an island restaurant(1)

Participation of Alain Loisin, lecturer(2)

During the years I have spent traveling, I have given presentations on several CroisiEurope cruises—from the banks of the Red Sea to the Canary Islands, the Greek islands to the Bosporus, Russia at the time of the czars to the splendors of the Adriatic.
Conference themes:
The Different Hues of the Balearic Islands.
George Sand and Frédéric Chopin in Valldemossa During the 1838-1839 Winter.
Barcelona, Capital of the Distinctive Autonomous Community of Catalonia.
This cruise is not available on our website. For more information and to look for suitable alternatives, please contact us on +33(0)388 762 199 or send us an email at international-fit@croisieurope.com
Sales
20% reduction for 1 child from the age of 2 up to the age of 10 sharing a cabin with 1 adult (on the price of the cruise only - excluding flights, taxes, supplements and service fees)
30% reduction for 1 child from the age of 2 up to the age of 10 sharing a cabin with 2 adults (on the price of the cruise only - excluding flights, taxes, supplements and service fees)
Ships
Several ships available for this cruise
Valid national identity card or passport required. Non-EU nationals are advised to consult their embassy or consulate.
---
Additional information
Useful info
INTERNET
SATELLITE CONNECTIONS
Our ship provides Internet connection via satellite while we cruise, which is different and slower than what we are used to through our regular home or office services. We cannot guarantee connection at all times. Please keep this in mind while you are enjoying your vacation with us.
TELEPHONE SERVICE
DURING CRUISE
When we are at sea, you can connect your device(s) to the onboard GSM/3G network. Your service provider will automatically send you the terms and conditions of use for this service. You will be able to make calls, send messages, or use the Internet through this network's roaming services. The GSM network will be turned off once the ship enters a port.
WHILE IN PORT
When the ship is in a port, you will be able to receive and make calls via your international calling/service plan according to the country you are visiting.
WATCH OUT FOR SERVICE FEES
We strongly recommend that you contact your service provider before your departure; international calls and data usage can be very costly and are almost never included in basic operator packages.
PLEASE CHECK THE SETTINGS FOR YOUR DEVICE
Once you are on board, but before you connect to the Internet, please check the settings for your device(s). We request that you limit the downloading of videos and large-volume files. Automatic updates to your PC, tablet, and smartphones will affect the speed and cost of your connection. You probably have automatic updates for apps on your devices that you are not aware of. We recommend that you deactivate these updates while you are staying with us.
---
Warning: Navigational obligations and weather conditions can disrupt the itinerary, and in certain cases, intermediate stops may be canceled. If this happens, CroisiEurope will do our best to find the best solution according to passenger expectations. For safety reasons, the company and/or the captain of the ship are the only authorities who can modify the cruise itinerary. 2021 PRE-CRUISE PROGRAM (subject to changes). (1) Optional excursions. (2) In the event of force majeure, we will find a replacement. (3) Limited availability. Alcohol can be dangerous to your health. Please drink in moderation.