# Description
Cruise
MADRAS - TRINCOMALE - COLOMBO - KOCHI - GOA - BOMBAY
Cruise to two fascinating countries and let yourself be guided on this grand tour of India and Sri Lanka. Like the great men who forged their history, you will arrive by sea to discover several Indian States: Tamil Nadu and its old trading posts, Kerala with its backwaters, Goa with its many places of worship and finally, one of the richest states—Maharashtra, with its vibrant capital city Bombay and the museum dedicated to Gandhi, known as the Father of the Nation.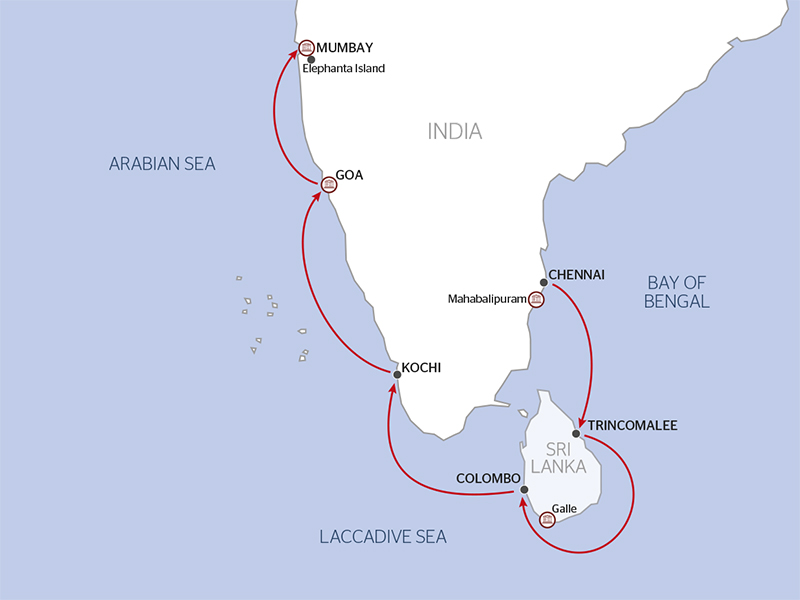 THE CROISIEUROPE DIFFERENCE
All meals included - DRINKS INCLUDED with meals
Refined local cuisine
Headsets are included for excursions
Official welcome from the captain and crew
Tour leader or cruise director on board
Onboard activities and/or lectures
Travel assistance and repatriation insurance
All port fees included
HIGHLIGHTS
Visits to 3 destinations listed as UNESCO world heritage sites

The site of Mahabalipuram in Madras
The churches and convents of Goa
The Victorian Neo-Gothic ensembles and Elephanta Island of Bombay

A day in the Backwaters of Kerala
Colombo and its living museum that retraces the life of a traditional village
The museum dedicated to the life of Gandhi in Bombay
All departure dates are currently sold-out.
Sales
20% discount for 1 child between 2 and 9 years old sharing a cabin with 1 adult (on the price of the cruise only - excluding supplements and service fees)
30% discount for 1 child between 2 and 9 years old sharing a cabin with 2 adults (on the price of the cruise only - excluding supplements and service fees)
Ships
Several ships available for this cruise
For French, Swiss, and Belgian nationals: Passport that is valid for 6 months after your date of return, with at least three side-by-side pages free of any markings. Mandatory Indian and Sri Lankan visas.
For other nationalities, please consult the competent authorities (consulate/embassy) before your trip. The use of mosquito repellent is highly recommended.
---
EXCURSIONS:
Excursions are only available for purchase up to 15 days before your trip begins.
Excursions will alternate between air-conditioned buses, small local boats, or rickshaws.
The excursions will be narrated by a local, French-speaking tour guide, and you will have earphones for easier listening.
Frequent traffic jams in large Indian cities, caused by intense traffic or religious events, can disturb the sequence of certain excursions.
PRECAUTIONS
Vaccines are not mandatory for this trip. It is nevertheless advisable to be up to date with the following vaccinations: tetanus, polio, hepatitis A and B, diphtheria, and typhoid fever. The use of mosquito repellent is highly recommended.
CURRENCY EXCHANGE
The Indian and Sri Lankan rupee: please consult websites such as www.xe.com or www.oanda.com/currency/converter/.
Payment using credit or debit cards is not current practice, but you will be able to withdraw money easily. There is no currency exchange service on board.
WEATHER
In terms of weather, the best period for visiting India and Sri Lanka is from the end of November to the end of March, regardless of the region visited. This will allow you to avoid both the monsoon season and unbearable summer heat. The temperature oscillates between 15°C and 32 °C (59°- 90° Fahrenheit) in India, and in Sri Lanka, the temperature is relatively constant at this time of year: 27°C (80°F).
TIME DIFFERENCE
You can consult www.worldtimezone.com to see the time difference between your home and your destination.
---
Additional information
Useful info
INTERNET
SATELLITE CONNECTIONS
Our ship provides Internet connection via satellite while we cruise, which is different and slower than what we are used to through our regular home or office services. We cannot guarantee connection at all times. Please keep this in mind while you are enjoying your vacation with us.
TELEPHONE SERVICE
DURING CRUISE
When we are at sea, you can connect your device(s) to the onboard GSM/3G network. Your service provider will automatically send you the terms and conditions of use for this service. You will be able to make calls, send messages, or use the Internet through this network's roaming services. The GSM network will be turned off once the ship enters a port.
WHILE IN PORT
When the ship is in a port, you will be able to receive and make calls via your international calling/service plan according to the country you are visiting.
WATCH OUT FOR SERVICE FEES
We strongly recommend that you contact your service provider before your departure; international calls and data usage can be very costly and are almost never included in basic operator packages.
PLEASE CHECK THE SETTINGS FOR YOUR DEVICE
Once you are on board, but before you connect to the Internet, please check the settings for your device(s). We request that you limit the downloading of videos and large-volume files. Automatic updates to your PC, tablet, and smartphones will affect the speed and cost of your connection. You probably have automatic updates for apps on your devices that you are not aware of. We recommend that you deactivate these updates while you are staying with us.
---
These cruises and tours are not recommended for persons with reduced mobility. You must be in good physical condition to participate as most visits are done on foot.
The captain of the ship is the sole authority who can modify the ship itinerary for safety or navigational reasons.
The excursions can be modified and the order of the visits can be reversed in the event of technical difficulties or local, cultural or sporting events. The local authorities can decide to close certain sites or museums at any time and for any reason. If this happens, we will propose an alternative.
Alcohol can be dangerous to your health. Please drink in moderation.