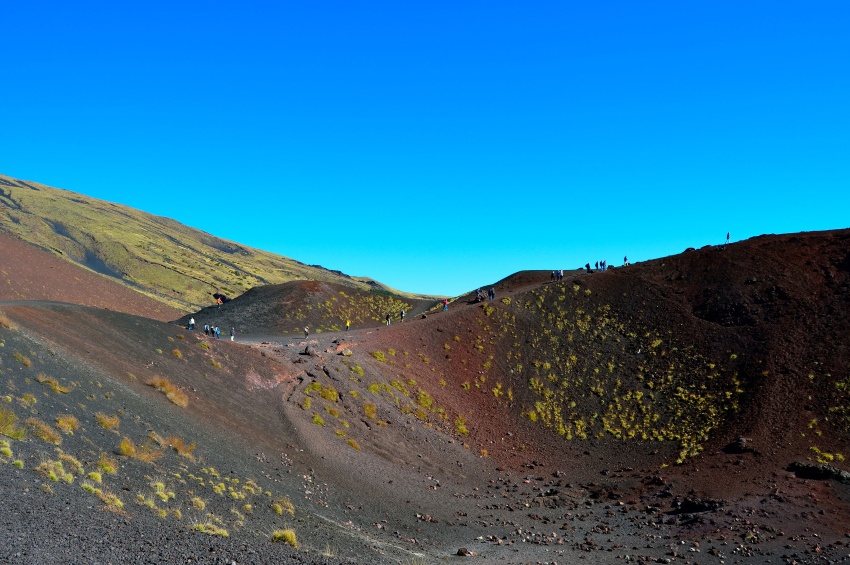 © CroisiEurope
# Trip
Full day excursion to Mount Etna
Description
We'll leave from the port of Catania for Mount Etna, one of Europe's most famous volcanoes. Century after century, the eruptions have modified the slopes of the mountain, forming unique sculptures of lava and ice. Our coach will climb the mountain to the Sapienza refuge, at about 6,234 feet high (1,900 m). From there, we'll continue our ascent by aerial tram and then in a four-wheel-drive bus to the "Tower of the Philosopher" at about 9,580 feet (2,920 m) in altitude. From the crater area and the ancient, monumental "Valle de Bove" caldera, you'll take in the superb view across the valley to the Mediterranean Sea. A mountain guide will escort you on a walk around the crater before returning to the refuge using the same means of transport as your arrival. We'll have lunch on the slopes of the volcanic mountain during our trip. At the end of the day, you'll return to the port.
PLEASE NOTE
The order of the visits can change.
Times are approximate.
Check the weather beforehand and bring the appropriate clothes and a good, sturdy pair of walking shoes.
If there is snow, the four-wheel-drive bus will be replaced by a snow groomer.
This excursion will only take place if the weather conditions and current safety measures are optimal.
Cruises
This shore excursion is available for one or several cruises