© Hospice de Beaume
# Trip
Excursion to the Burgundy Vineyards and the Hospices de Beaune
Description
Departure by coach from Tournus in the company of our guide to discover the Burgundy vineyards.
Our tour will take us along the "côte de Beaune" and through many wine-growing villages such as Pommard - whose wines were already beloved by Henry IV and Louis XV - Puligny, Montrachet and many more.
Afterwards, we'll stop in Beaune for a visit to the famous Hospices. Hôtel-Dieu de Beaune is a former charitable almshouse founded in 1443 by Nicolas Rolin, chancellor of Burgundy, as a hospital for the poor. The Hospices de Beaune remained a refuge for the needy from the Middle-Ages to the 20th century, a place where they were relentlessly taken care of by the "Soeurs Hospitalières". We'll discover the Hospices Museum which houses a collection comprising some 5,000 objects, including the famous polyptych altarpiece by Flemish artist Rogier van der Weyden.
The Hospices are also home to a wine-growing estate. Thanks to donations made throughout their history, the Hospices own over 60 hectares of vines. Most of the plots are located in areas growing prestigious "appellations". Our visit ends, of course, with a tasting* of these famous wines. Return on board in Chalon-sur-Saône.
Duration : approx. 4:00
*Alcohol can be harmful to your health. Please drink in moderation.
The order of the visits can change.
Times are approximate.
These excursions are not proposed for all the cruises and depend on the itinerary.
The excursions on the first evening and the morning following boarding are only guaranteed for the passengers who have booked the excursion before the cruise.
If the minimum of 25 participants is not reached, the excursion may be either cancelled or proposed at another rate, depending on the number of participants (to be paid for on board).
Cruises
This shore excursion is available for one or several cruises
Show more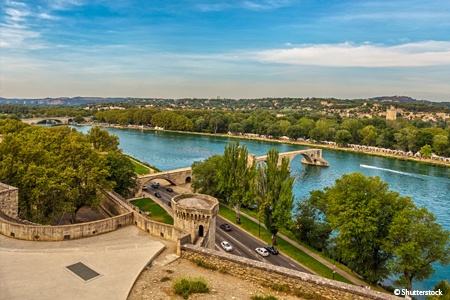 © Shutterstock
Next departures:
28/09/2019, 09/10/2019, ...
MARTIGUES(1) - ARLES - AVIGNON - TAIN L'HERMITAGE - VIENNE - CHALON-SUR-SAÔNE
From Martigues to Lyon via Arles, the Camargue, Avignon and Tain l'Hermitage, go on an unforgettable cruise. Discover Lyon, a UNESCO World Heritage city, which retales 2,000 years of history through its old cobbled streets, as well as Avignon and its renowned Papal Palace.