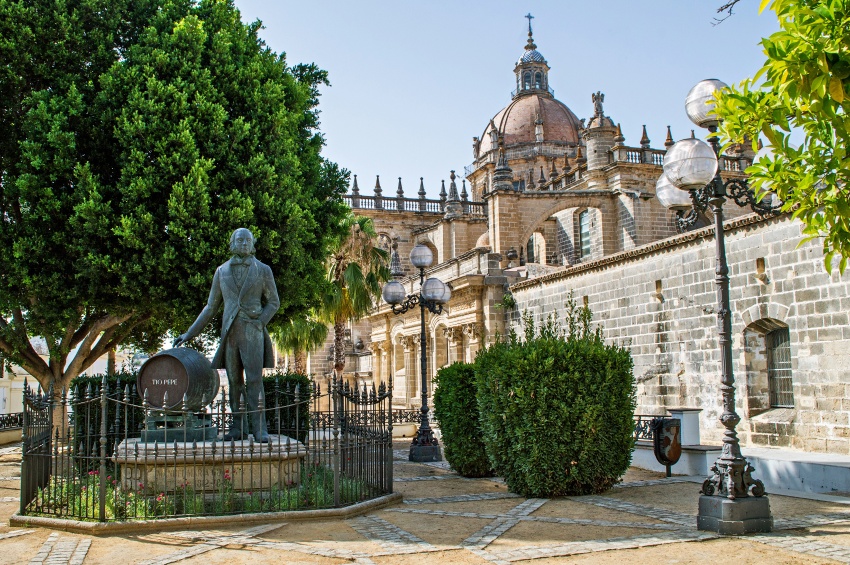 © CroisiEurope
# Trip
Guided tour of Jerez and a Ganaderia
Description
We will depart from El Puerto de Santa Maria for our excursion in Jerez. Jerez has been renowned for its wines, flamenco, horses and bull ranching. A panoramic tour by coach will enable you to see the cathedral which was built in 1695 over the ruins of the old Jerez mosque and the former Salvador Church. The bell tower outside was probably built over the mosque's minaret. The rectangular temple has five naves and houses a latin cross structure. Afterwards, we'll discover the Alcazar which still displays a large amount of features from its early construction in the 12th century by the Almohads. After the city fell into the hands of Alfonso X, it became the house of Sevillian Caliphs and the headquarters of Christian governors. Your tour will continue with a visit to a "Ganadería" (a property where bulls are raised), an opportunity to learn about this living symbol of Spanish culture. The Ganaderia's goal is to raise valiant bulls for the fights who will fiercely set out to attack anyone who might taunt them even slightly. We'll return on board for lunch.
Duration : approx. 5:00
Good walking shoes are recommended.
The order of the visits can change.
Times are approximate.
These excursions are not proposed for all the cruises and depend on the itinerary.
If the minimum of 25 participants is not reached, the excursion may be either cancelled or proposed at another rate, depending on the number of participants (to be paid for on board).
The excursions on the first evening and the morning following boarding are only guaranteed for the passengers who have booked the excursion before the cruise.