Description
This excursion will bring you to some of the most important sites in the city of Jerusalem, including the Mount of Olives and Garden of Gethsemane. We'll also visit the Old City and the colorful markets where the three main religions (Christianity, Judaism and Islam) live side by side. Then, we will explore the Church of the Holy Sepulchre—the holiest Christian site in the world—believed to encompass both the Calvary where Jesus Christ was crucified, as well as the cave where his body was placed after his death. We'll continue along the Via Dolorosa until we reach the Wailing Wall, the most sacred place of worship for the Jewish faith, where they write their prayers on notes of paper which are then inserted in the wall. Lastly, we will visit Mount Zion—where Jesus Christ celebrated the Last Supper with his disciples.
PLEASE NOTE
You must wear appropriate clothing for this excursion: men need long pants, women need their shoulders and legs covered.
The order of the visits can change.
Times are approximate.
Cruises
This shore excursion is available for one or several cruises
Show more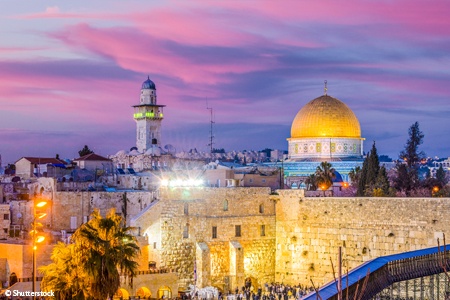 © Shutterstock
Next departures:
25/01/2020, 15/02/2020, ...
LARNACA - HAIFA - LIMASSOL - LARNACA
Join us for an exceptional cruise between Cyprus and Israel. You will discover the treasures of the Holy Land in Galilee but also Jerusalem, Bethlehem and Nazareth. Cyprus will amaze you with its breath-taking sceneries. Nicosia or Paphos: with the impressive mosaics of these ancient cities and contrasting capitals, embark on an extraordinary journey!
START IN
2019
START IN
2020
* Price based on double occupancy