© Ewa Mazur
# Trip
Deux Marines Museum and Tourist Train
Description
We'll leave by tourist train for a tour of Briare, first admiring the Briare Aqueduct, whose 14 masonry supports were built by the Eiffel company. Until recently, it was the longest navigable aqueduct in the world. We'll also pass by the Town Hall and the Château de Trousse Barrière. We'll then head to the Deux Marines Museum and discover the history of the Loire and its canals: the spot that was once considered the most important waterway crossroads in France. Learn about the evolution of boating on the Loire and its sailors, the navigational techniques used, and the large variety of merchandise that was transported up and down the river at one time. We'll return to the ship on foot.
Duration : approx. 2:15
Wear comfortable, sturdy walking shoes.
The order of the visits can change.
Times are approximate.
These excursions are not proposed for all the cruises and depend on the itinerary.
If the minimum of 14 participants is not reached, the excursion may be either cancelled or proposed at another rate, depending on the number of participants (to be paid for on board).
The excursions on the first evening and the morning following boarding are only guaranteed for the passengers who have booked the excursion before the cruise.
Opening hours: all year round from 10:00 a.m. to 6 p.m.
Cruises
This shore excursion is available for one or several cruises
Show more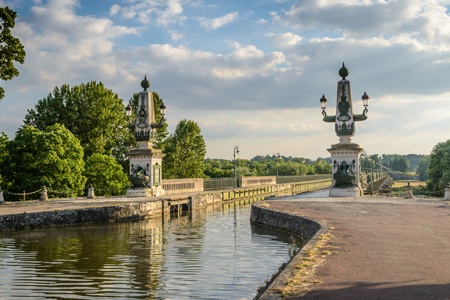 © Shutterstock
Next departures:
07/05/2020, 02/07/2020, ...
Paris - BRIARE - LERE - MENETREOL-SOUS-SANCERRE - HERRY - MARSEILLES-LES-AUBIGNY - NEVERS - Paris
From Briare to Nevers, this cruise will take you to the heart of authentic terroirs and cities full of character and heritage. Cruise along the Loire Canal, the royal river with a legendary beauty. You will explore unique places such as Nevers located in the heart of Burgundy, but also the Fontmorigny Abbey, recounting 8 centuries of monastic history. Discover wine and gastronomic cities such as Pouilly-sur-Loire and Sancerre.
START IN
2020
* Price based on double occupancy