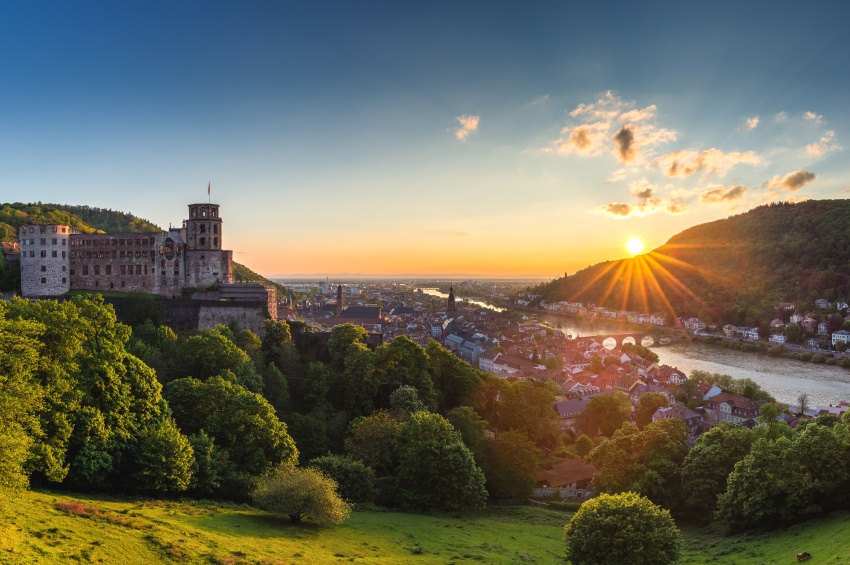 © DaLiu
# Trip
Tour of Heidelberg and its Castle
Description
We'll leave for a guided tour of Heidelberg and its legendary castle. We'll take the recently renovated funicular railway from the Old Town area, getting our first glimpses of the impressive palace up close. Once above, we'll be able to take in the breathtaking views across the hills and valleys that surround the Neckar River. Although the castle is in ruins, we can still perceive its prestigious past. The walls, towers, and bunkers served as its defense, and the interior courts show off extravagant palace decor and exceptional sculptures. While the Hortus Palatinus garden seems like something straight out of a fairytale, the Heidelberg Tun has been referenced in great works by Jules Verne, Washington Irving, and Mark Twain. We'll return to the Old Town the same way we went up. Enjoy some time in the city itself and soak up the atmosphere by meandering through lanes. The university is the oldest, and still the most prestigious, in Germany. By the end of our excursion, you'll understand why this lovely city has inspired many the painter and poet by its beauty.
PLEASE NOTE
The order of the visits can change.
Times are approximate.