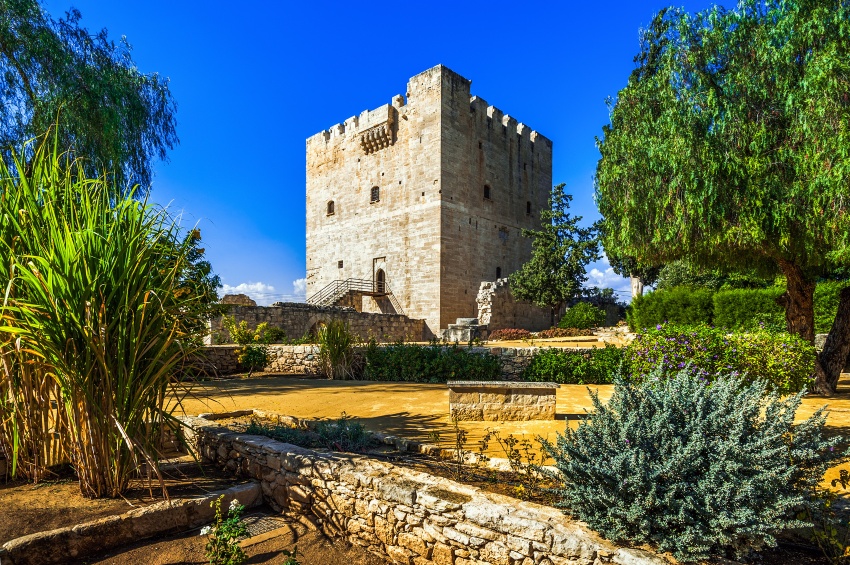 © Shutterstock
# Trip
Kourion and Kolossi castle
Description
Your journey will take you to the archaeological site of Kourion. This is one of the most spectacular sites in all of Cyprus, perched proudly on a hillside between land and sea with wonderful views over the bay of Episkopi. Here you can admire the Greco-Roman theatre, originally built in the 2nd century BC and added to during the 2nd century AD. Now fully restored, it is currently used for musical and theatrical performances. The excavations still continue and have already uncovered the House of Eustolios, consisting of a complex of baths and a number of rooms with superb 5th century A.D. mosaic floors. The house was once a private Roman villa before it became a public recreation center during the Early Christian period. You will continue to Kolossi Castle, a fine example of military architecture dating from the 13th century, which was the seat of the Supreme military commandment of the Order of St. John of Jerusalem (Knights Hospitallers) and then later under the control of the Knights Templars. Here the famous sweet wine of the Commandaria came into being. Arriving at the old port in Limassol, you will be able to admire the medieval castle (outside only) where Richard the Lionheart was said to have married Queen Berengaria of Navarre. Next, why not stroll along the alleyways of the old town, and head for the covered market or simply while away some time relaxing on the terrace of one of the cafes. Enjoy some free time before returning on board.
Duration : 4:00
The order of the visits can change.
Times are approximate.
Cruises
This shore excursion is available for one or several cruises