# Description
Cruise
HO CHI MINH CITY - MY THO - CAI BE - VINH LONG - SA DEC - CHAU DOC - PHNOM PENH - KOH CHEN - KAMPONG TRALACH - KAMPONG CHHNANG - TONLE SAP - SIEM REAP
From the heights of the Himalayas to the southern coasts of the South China Sea, winding over 2,700 miles, the Mekong is much more than just irrigation for Indochina—everywhere it flows, it fascinates men and shapes their lives. Come take an expedition on this grand and plentiful "water snake," from Ho Chi Minh City, still largely influenced by the French colonial days, to Phnom Penh, Tonle Sap Lake and the ruins of Angkor, following the footsteps of Henri Mouhot. Our meditative trip takes you along the Mekong River on board a ship combining charm and colonial-style comfort.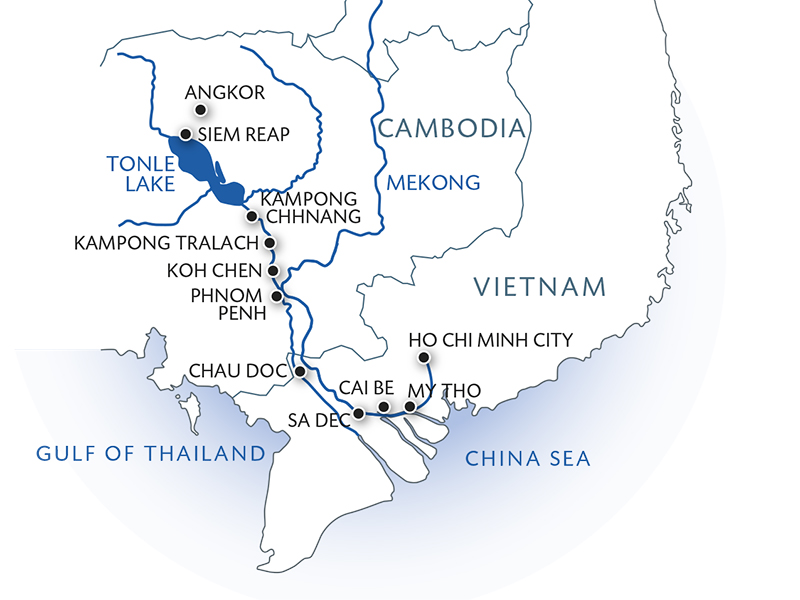 THE CROISIEUROPE DIFFERENCE
All meals included - DRINKS INCLUDED with meals
Refined local cuisine
Headsets are included for excursions
Official welcome from the captain and crew
Tour leader or cruise director on board
Onboard activities and/or lectures
Travel assistance and repatriation insurance
All port fees included
HIGHLIGHTS
EXCURSIONS INCLUDED:

Discover historical cities: Ho Chi Minh City and Phnom Penh
Meet the locals and learn about their daily lives in Koh Chen, My Tho...
Crossing through the splendid Cho Gao canal
START IN
2018
* Price based on double occupancy
Sales
Formalities
Non-EU nationals are requested to consult their embassy or consulate.
Ships
Several ships available for this cruise
These cruises and tours are not recommended for persons with reduced mobility as there are no lifts on board the ships.
Crossing Tonle Sap Lake: During the high-water season, usually from August to the end of November, the crossing will be done on your ship. In the low-water season, from December to February, the crossing will be done on high-speed boats (approximately 4 hours). In the very low-water season, from approximately February to April, the transfer from Siem Reap to Koh Chen to join your ship will be done in an air-conditioned coach (approximately 5 hours).
Low waters can happen at any time during the year. The time frames are given as examples, but are dependent on the quality of rainfall.
The banks of the river we will cruise on can be steep and slippery depending on the water level.
The itinerary, stopovers, and excursions can be modified by the cruise company and our on-site representatives if needed. The captain of the ship is the sole authority who can modify the ship itinerary for safety or navigational reasons.
*Alcohol can be harmful to your health. Please drink in moderation.