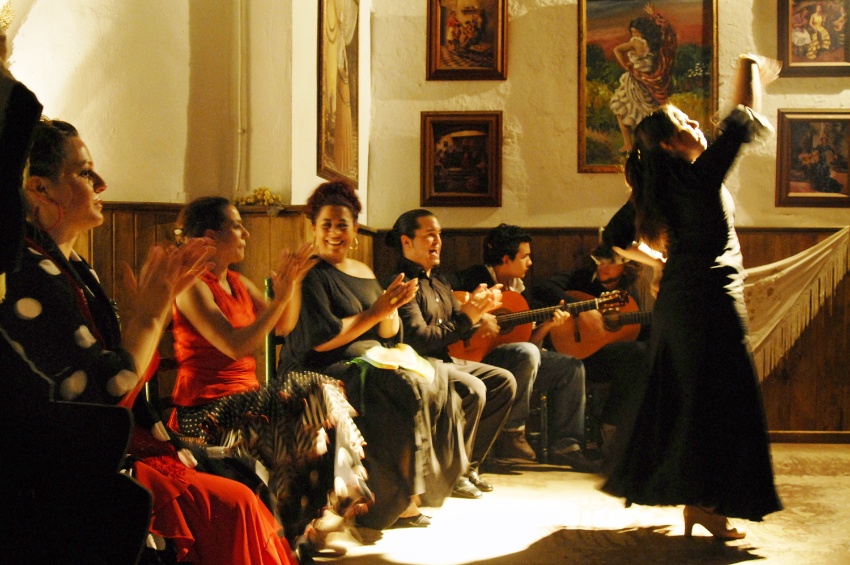 © CroisiEurope
# Trip
Flamenco evening in Cadiz
Description
After dinner, departure on foot for a Flamenco evening. Flamenco (cante flamenco) is an art created by the Gypsy and Andalusian peoples based on popular folklore born from the various cultures which flourished throughout the centuries in Spain.
Originally, Flamenco was simply a capella vocals (cante). Its first genre, la toná, was forged in the geographical triangle formed by Triana, Jerez and Cádiz. Only later did the hand-clapping (palmas), the dancing (el baile) and the guitar (toque) appear. Dancing and guitar can now often be found alone, although vocals are still considered at the heart of the tradition. More recently, instruments such as the cajon (a percussion instrument from Peru), the palillos (castanets), and the bass guitar were added.
Immerse yourself in the most famous Spanish tradition, this mixture of vocals, guitar and dance in which Arab, Oriental and Gypsy influences mingle. Return to the boat.
Duration : approx. 2:30
The order of the visits can change.
Times are approximate.
These excursions are not proposed for all the cruises and depend on the itinerary.
If the minimum of 25 participants is not reached, the excursion may be either cancelled or proposed at another rate, depending on the number of participants (to be paid for on board).
The excursions on the first evening and the morning following boarding are only guaranteed for the passengers who have booked the excursion before the cruise.