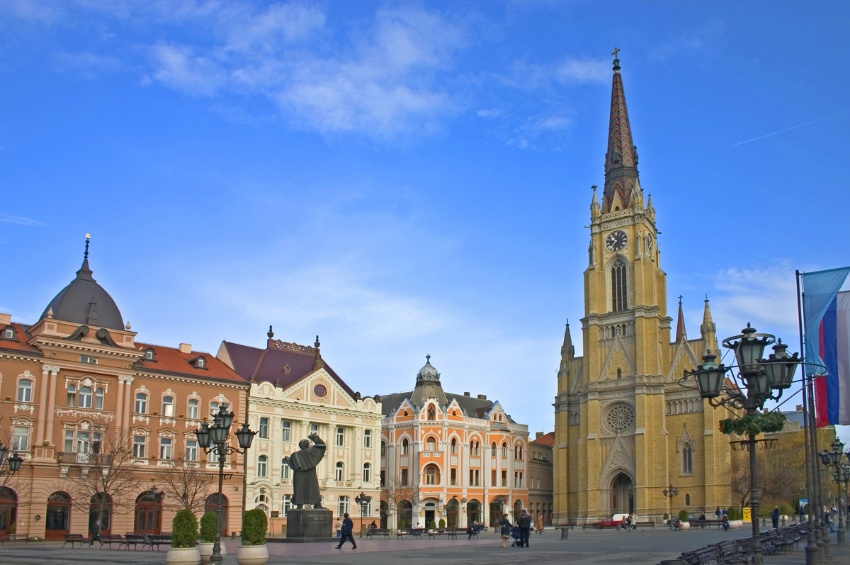 © Bosnic
# Trip
Guided tour of Novi Sad, the Krusedol monastery and Sremski Karlovci
Description
Departure by coach from Belgrade. Our excursion begins with a visit to Krusedol Monastery located in the mountainous region of Fruska Gora. More than 16 Orthodox monasteries are spread around the hamlet of Irski Venac, a great opportunity to soak up Serbian art combining Byzantine and Baroque architecture. You will be delighted by the magnificent paintings from the 18th century that adorn this beautiful 16th century monastery.
We'll then move on to Sremski Karlovci, a small peaceful town of 9,000 inhabitants on the banks of the Danube. In the 17th century when the Turkish were no longer a threat, the city became the Serb cultural center in the Austro-Hungarian Empire and seat of the Orthodox Patriarchate. The cultural influence of the city extended with the creation of the first Serbian high school in the 17th and 19th centuries where the greatest writers and theologians met. A walk through this romantic city will allow you to see the 18th century Cathedral and the oldest pharmacy in Vojvodina.
Our coach will then take us to Novi Sad. Capital of the autonomous region of Vojvodina, Novi Sad is also the second largest town in Serbia, going by the size of its population. The town has a long and troubled history since it was under the rule of Celts, Romans, Franks, Barbarians and Turks until it became part of the Habsburg Empire. It was known as "Petrovaradin" in the past, and the name Novi Sad (meaning 'new plant') only came into use in 1748. The history of the town was further troubled during the 20th century when after the First World War, the Balkan territories were in turn united and separated under different names, until in 2006 when the town finally became part of an independent Serbia. We'll visit the city center by foot. The old Austro-Hungarian city with its Baroque buildings developed around ancient fortifications. You will be able to see the Episcopal Church as well as the Orthodox Church before continuing up the main street to Freedom square with the old Town Hall, dating from 1895. The coach will be waiting for you near Freedom square to finish the visit with a panoramic tour up the main boulevards leading to the boat.
Duration : approx. 5:30
Good walking shoes are recommended.
Appropriate clothing required for the visit to the monastery (no shorts or T-shirts, covered shoulders for women and closed shoes).
The order of the visits can change.
Times are approximate.
These excursions are not proposed for all the cruises and depend on the itinerary.
If the minimum of 25 participants is not reached, the excursion may be either cancelled or proposed at another rate, depending on the number of participants (to be paid for on board).
The excursions on the first evening and the morning following boarding are only guaranteed for the passengers who have booked the excursion before the cruise.
Cruises
This shore excursion is available for one or several cruises