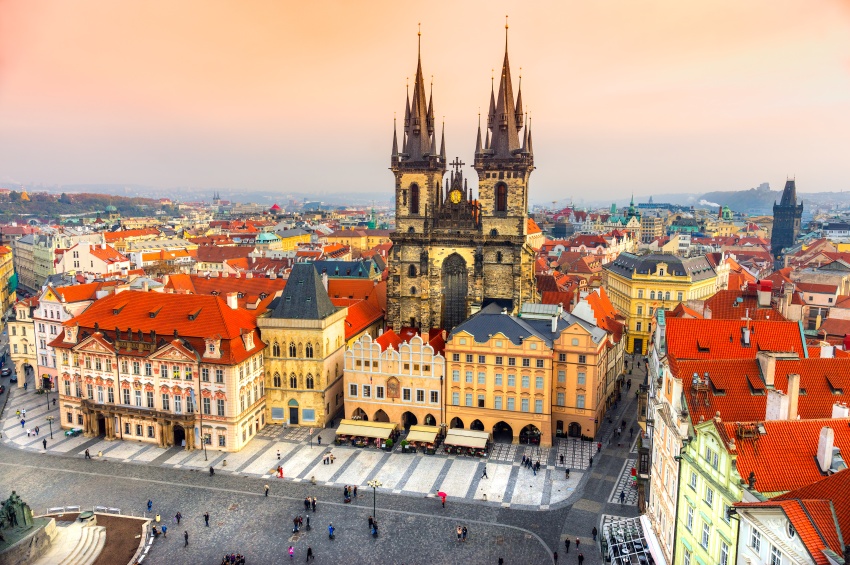 © Luciano Mortula
# Trip
Guided tour of Prague: Old City
Description
Prague is the capital and largest city of the Czech Republic as well as the fourteenth largest city in the European Union. It is located in the north-west of the country on the Vltava River, and is home to about 1.26 million people.
Located at the very heart of Central Europe, Prague was once the capital of the Kingdom of Bohemia, the Holy Roman Empire and Czechoslovakia. The "City of a Hundred Spires" was miraculously spared during World War II and its architecture, mixing Pre-Romanesque, Romanesque, Gothic, Baroque, Rococo, Art Nouveau and Cubist styles, gives Prague its unique flavor. The city was deeply marked by the 1968 Prague Spring–the short-lived season of the "socialism with a human face" aiming at the renovation of institutions in a democratic way–which strongly inspired Czechoslovak culture from the 60s to the 80s. Prague's historic city center was added to the UNESCO World Heritage List in 1992.
We'll have a guided walk in the old city starting with the Old Town Square–the busiest area in Prague–and its beautiful archways. We'll see Jan Hus Memorial, built in honor of this church reformer who was burned at the stake for heresy in 1415, as well as the Old Town Hall and its fascinating astronomical clock featuring the hourly show of figures of the Apostles striking the time, the Gothic Church of Our Lady before Týn (exteriors only), the Ungelt and the merchants' yard. We'll also get to admire the Municipal House, the city's foremost Art Nouveau building, and one of the finest in Europe, as well as the Powder Gate, one of the original 13 entrances to Prague's Old Town. We'll return on board after our visit.
Duration : approx. 3:00
Wear comfortable, sturdy walking shoes.
The order of the visits can change.
Times are approximate.
These excursions are not proposed for all the cruises and depend on the itinerary.
The excursions on the first evening and the morning following boarding are only guaranteed for the passengers who have booked the excursion before the cruise.
If the minimum of 25 participants is not reached, the excursion may be either cancelled or proposed at another rate, depending on the number of participants (to be paid for on board).
Cruises
This shore excursion is available for one or several cruises