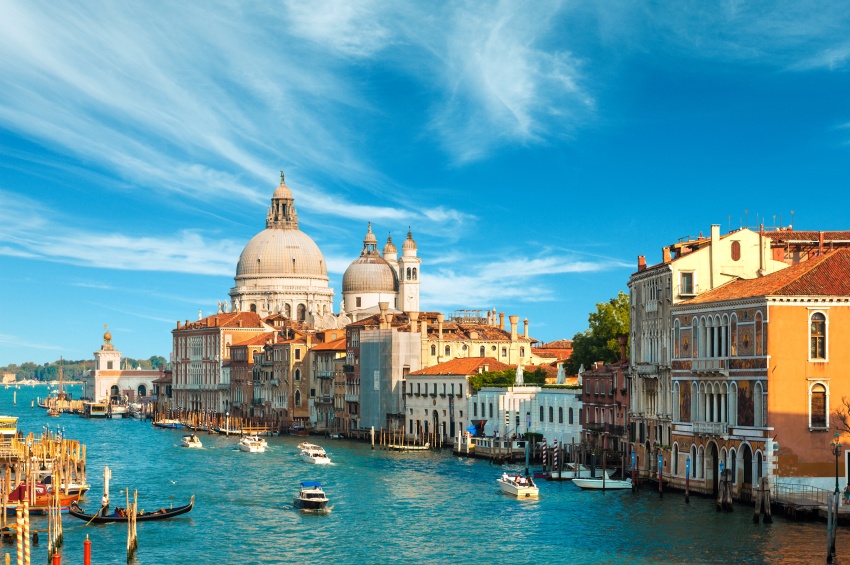 © Gurgenb
# Trip
Guided walking tour of Venice and the Doge's Palace
Description
You will meet the guides on the boat. The tour will begin with a historical and artistic introduction to Venice with St Mark's Square, then you will be able to see St Mark's Cathedral (exterior). The Byzantine facades of the Cathedral (one of the most magnificent in the world) will immediately draw your attention. Originally, it was built in the 9th century to hold the body of St Mark, Patron Saint of Venice. Only a few traces of the original structure remain and the present day Cathedral dates from the 12th, 14th and 15th centuries. The exterior, with its domes, pinnacles and wooden horses, contrasts with the shining golden mosaics of the interior. The tour continues with the Doge's Palace, the residence of the Dukes of Venice and seat of the Venetian government from the 9th century until the Republic fell in 1797. Although there are no longer any traces of the 9th century Byzantine structures, the Palace as we see it today, richly decorated outside and inside, dates from the 14th century and is considered by many as the finest in the world. A visit to the top of the famous Golden Staircase will enable you to admire the paintings of Tintoretto and Veronese, to walk through the Grand Council Chamber and out onto the balcony, with its fantastic view. You will walk over the famous decorated Bridge of Sighs, which leads to the prison. The bridge, known in the past as the image of the destiny that awaited the prisoners, today has more romantic connotations. Return to the boat on foot.
Duration : approx. 3:30
The commentary on St Mark's cathedral will be given outside, as it is not authorized inside.
Passengers will be able to enter the Cathedral during their free time. Modest clothing required. A long queue can be expected.
Wear sturdy walking shoes: the tour is entirely on foot.
There are a lot of steps to climb at the Doge's Palace.
With your tickets for the Doges' Palace, you will have free entry to the Correr Museum and library.
The order of the visits can change.
Times are approximate.
These excursions are not proposed for all the cruises and depend on the itinerary.
If the minimum of 25 participants is not reached, the excursion may be either cancelled or proposed at another rate, depending on the number of participants (to be paid for on board).
The excursions on the first evening and the morning following boarding are only guaranteed for the passengers who have booked the excursion before the cruise.
Cruises
This shore excursion is available for one or several cruises