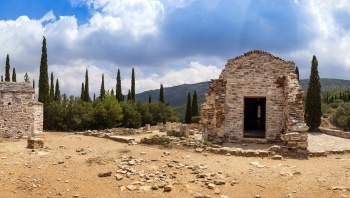 © Violeta Meleti
# Trip
Kaisariani Monastery
Description
The Kaisariani Monastery is just a few miles to the west of Athens, at the foot of Mount Hymettus. The first Christian church was built here over the remains of a shrine to the goddess Aphrodite. The monastery we see today began to take form in the 11th century. The church contains impressive frescoes from the 17th century, which follow the strict, Orthodox rules for the position of subjects. We'll have an opportunity to tour the grounds and discover how the monks live. Our visit will culminate up a small path to the impressive view of the city.
PLEASE NOTE
The order of the visits can change.
Times are approximate.
Cruises
This shore excursion is available for one or several cruises