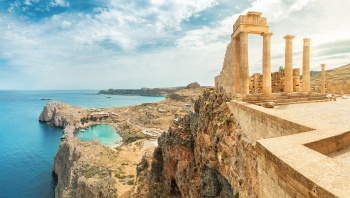 © Frantic00
Description
Without a doubt, Lindos is the most beautiful village on the island of Rhodes. Dominated by an imposing citadel, the hillside town's white colors contrast beautifully against the surrounding earth and turquoise bay. Lindos was one of the three major inhabited areas in ancient Rhodes because its strategic location and trade prospered quickly. But its situation also made it vulnerable to invasions and occupation. In the 20th century alone, the Turks, Italians, Germans, British, and finally Greeks claimed successive rule. We'll walk about 20 minutes to the Acropolis at the top of the village. Part of the Lindos' charm is that there are no cars at all. The Acropolis contains the ruins of the temple to goddess Athena Lindia, considered one of the most sacred sites in ancient Greece. Centuries later, the Knights of Saint John built the castle and sturdier walls. Along with the blend of historical ruins, an amazing view over the sea from the cliffs awaits you.
PLEASE NOTE
The order of the visits can change.
Times are approximate.
Cruises
This shore excursion is available for one or several cruises