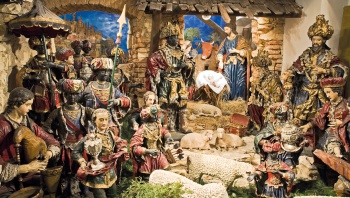 © Peter Zurek
# Trip
Nativity Scenes in Prague
Description
We'll enjoy an exhibit of nativity scenes crafted in all shapes and sizes and all sorts of materials including wood, ceramic, and hay. This tour includes a tasting of the traditional Czech Trdelník cakes. Trdelník dough is grilled on iron spits and then rolled in a walnut sugar mix. This delight should be on the top of any visitor's to-do list in Prague. Spend the rest of the afternoon exploring the Christmas markets in the old part of the city. Soak up the unique European ambiance accented by the lights and delicious scents the holiday brings. Or grab a seat in a café in front of the astronomical clock to hear it strike and see the 15th-century figures come to life.
PLEASE NOTE
The order of the visits can change.
Times are approximate.
Cruises
This shore excursion is available for one or several cruises