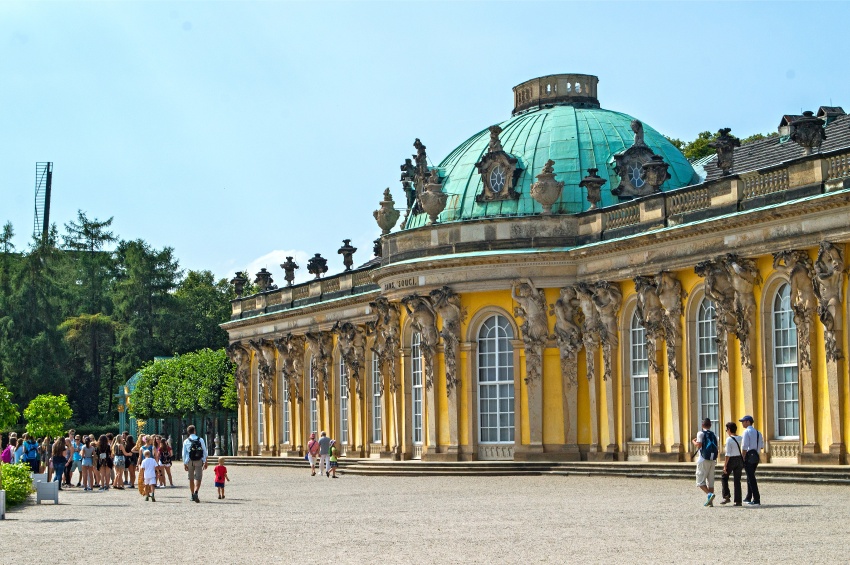 © CroisiEurope
# Trip
Panoramic tour of Potsdam and visit of the Sanssouci Gardens
Description
We'll leave by coach with local guides who will help you discover the history of Former Prussia and its illustrious monarchs. In Potsdam, the visit will begin with a walk through the gardens at the Sanssouci Palace. You'll walk the flower-lined pathways and staircases leading through the terraced garden to the residence of Frederick the Great, built between 1745 and 1747. The personal tastes of the king had such an influence on the design and the decoration of the palace that its style is often referred to as "Frederician Rococo".
We'll get back on the coach and take a spin around the Sanssouci Park to admire its fabulous structures before heading to Cecilienhof Palace. Cecilienhof Palace was built from 1914 to 1917 for Crown Prince William and his wife, Cecilie von Mecklenburg-Schwerin, as a gift from Emperor Wilhelm II. After the end of the war in Europe, the Potsdam Conference - attended by Stalin, Churchill and Truman - was held in the palace from July 17 - August 2, 1945. Here, Churchill and Truman also defined the terms of surrender together for Japan.
After our visit, we'll head back to downtown Potsdam for some free time in the Dutch district before returning to the ship by coach.
Duration : approx. 4:00
Good walking shoes are recommended: walk in the Sanssouci gardens with stairs to climb (approx. 1:00 hr) and a walk in the Cecilienhof gardens (approx. 30min).
The boat is sailing during the excursion (only in the Amsterdam-Berlin cruise).
Beware! We'll only visit the gardens of the Sanssouci palace, with no further visit inside the palace.
The order of the visits can change.
Times are approximate.
These excursions are not proposed for all the cruises and depend on the itinerary.
If the minimum of 25 participants is not reached, the excursion may be either cancelled or proposed at another rate, depending on the number of participants (to be paid for on board).
The excursions on the first evening and the morning following boarding are only guaranteed for the passengers who have booked the excursion before the cruise.
Cruises
This shore excursion is available for one or several cruises