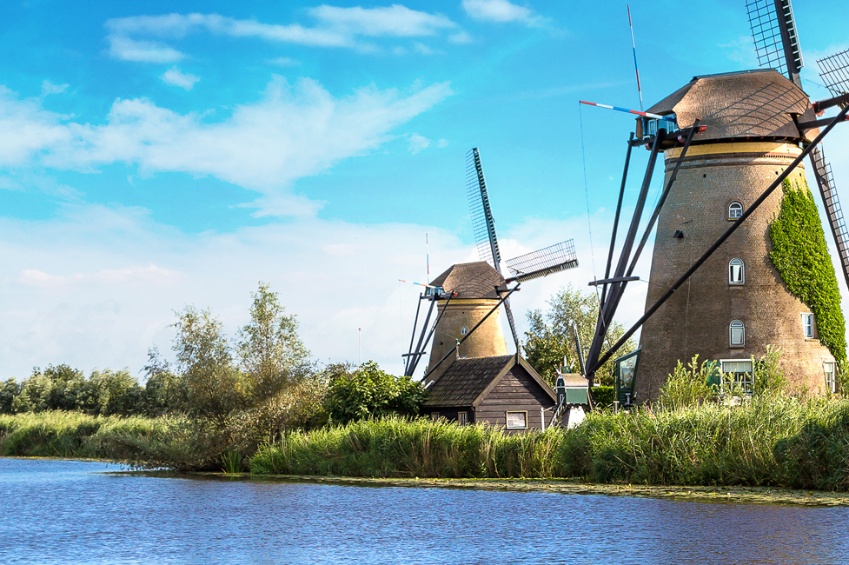 © S-F
# Trip
The Windmills of Kinderdijk
Description
We'll leave by coach to visit the windmills of Kinderdijk. It's the only place in the world where we can see so many windmills in one place, and that's one of the reasons why they were listed as a prestigious UNESCO World Heritage Site in 1997. The mills were built in the 18th century to remove water from the polder as everything is below sea level. The Dutch are masters at water management, and this attraction is the best place to learn how they have dealt with their struggles against the sea over the centuries. The area was also the inspiration for a familiar children's game. Legend has it that after a flood in 1491, as someone from the local village was inspecting the damage, they saw a cradle floating in the water. As the floating cradle came nearer, a cat was seen trying to keep it balanced by jumping back and forth so that no water could get in. When the cradle came close enough for someone to pick it out of the water, they saw a baby quietly sleeping inside. This folktale is now well known as "The Cat and the Cradle."
PLEASE NOTE
The order of the excursions can change.
Times are approximate.
Cruises
This shore excursion is available for one or several cruises