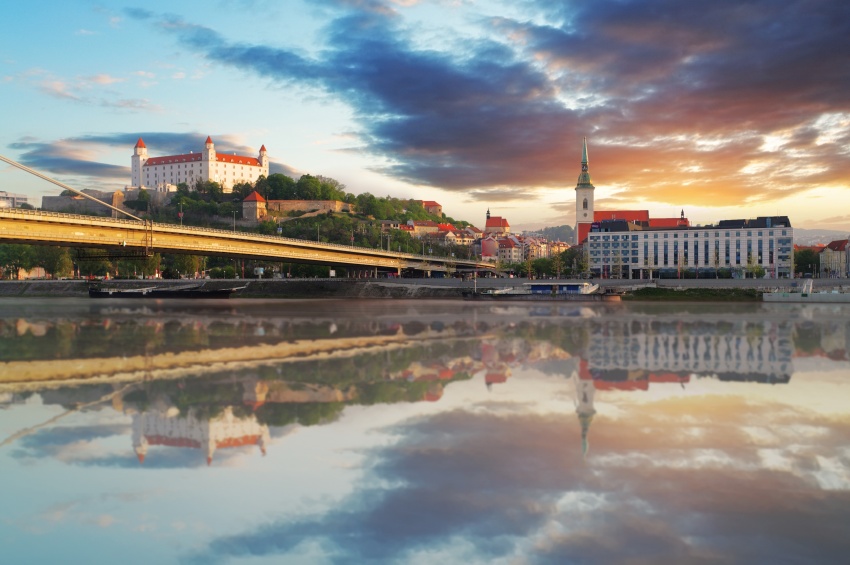 © Tomas 1111
# Trip
Guided tour of Bratislava
Description
Bratislava, before becoming the capital of independent Slovakia in 1993, was first of all the capital of Hungary from 1536 to 1784 under the name of Presburg. It then belonged to Czechoslovakia before becoming the capital of the "Slovak Socialist Republic" as part of Czechoslovakia between 1969 and 1992.
With your guides, you will begin the visit with a panoramic tour of the city which will take you to Bratislava Castle, which dates from 1811, after the previous castle burned down, and from where you will enjoy a breathtaking view over the Danube and the city. The main historical monuments are in the Old Town and the coach will drop you off at the entrance to the Old Town to continue the visit on foot. You will enter the city through Michael's Gate, which is the only gate still surviving from the Middle Ages. Then you will head for the central square surrounded by elegant buildings, some in Art Nouveau style, and dominated by the old Bratislava Town Hall. The tour will continue with the Primate's Palace completed in 1781 for Archbishop Jozef Bathyány.
As you stroll through the streets, you may come across some of the amusing statues that are dotted around the capital.
In the programs MVI/MVI_PP/NVI/NVI_PP : After the guided tour, you will have some free time to enjoy the Christmas market located in the Main Square in front of the City Hall. We will return to the boat on foot or by coach depending on sailing times.
Duration : approx. 3:00
Good walking shoes are recommended.
The order of the visits can change.
Times are approximate.
These excursions are not proposed for all the cruises and depend on the itinerary.
If the minimum of 25 participants is not reached, the excursion may be either cancelled or proposed at another rate, depending on the number of participants (to be paid for on board).
The excursions on the first evening and the morning following boarding are only guaranteed for the passengers who have booked the excursion before the cruise.
Cruises
This shore excursion is available for one or several cruises
Show more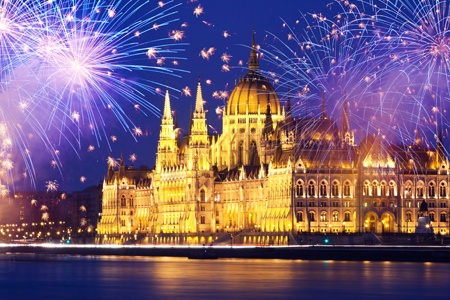 © Shutterstock
VIENNA - BUDAPEST - BRATISLAVA - VIENNA
Go on a unique cruise and celebrate the New Year on the majestic Danube! Admire the colorful streets of Bratislava, Vienna or Budapest and their numerous historical, cultural and architectural treasures to be discovered along your journey.
All departure dates are currently sold-out.
Show more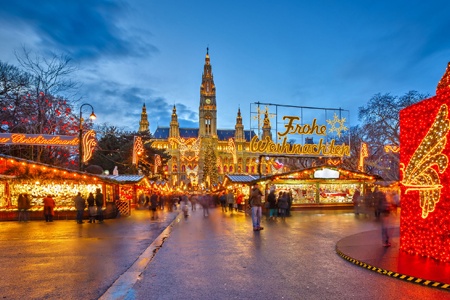 © Sborisov
Next departures:
01/12/2019, 09/12/2019, ...
VIENNA - BUDAPEST - BRATISLAVA - VIENNA
Join us for a cruise in the heart of the major capitals along the Danube and discover the most enchanting Christmas markets in Europe. Stroll through beautiful squares and enchanting Christmas markets in Vienna, enjoying the scents of mulled wine and gingerbread perfuming the aisles between the wooden cabins. You can also visit the Christmas markets of Bratislava and Budapest where the local artisanship and culinary delights will bring the magic of Christmas to your heart.
START IN
2019
* Price based on double occupancy
START IN
2019
* Price based on double occupancy